Tenants' Right to Counsel Project Career Opportunities
The MLA Tenants' Right to Counsel Project is currently hiring attorneys and paralegals across the state. Come work where it matters most and be part of the solution! Apply today!
Tenants' Right to Counsel Project (TRCP)
Thousands of Maryland renters are eligible for free legal representation. Maryland Legal Aid's Tenants' Right to Counsel Project (TRCP) can help!
Are you at risk of being evicted from your home? Are you worried about losing your voucher? You may be eligible to work with a free lawyer. Attorneys can help renters in the following situations:
• Failure to Pay Rent: Landlords file this case when they believe you owe back rent.
• Breach of Lease: Landlords file this case when they believe you have violated the lease.
• Tenant Holding Over: Landlords file this case when they claim you refuse to leave the property after the lease has ended.
• Voucher or Other Subsidy Terminations: The Housing Authority or agency administering your voucher or other housing subsidy starts this case by sending you a termination notice saying you have violated program rules or regulations.
Tenants have rights and a lawyer can help!
A landlord cannot evict a tenant in Maryland without getting a court order and scheduling the eviction through the Sheriff's Department or, in Baltimore County, the Constable's Office. You cannot be evicted if your landlord is pressuring you to move by illegally shutting off utilities or ignoring unfit living conditions.
Tenants have the right to defend themselves against eviction or subsidy termination.
A lawyer can help you find the right defense, prepare for your case, and will be there with you in court. Lawyers can talk to landlords and work toward things like:
• Maintenance and repair
• Payment arrangements
• More time to relocate
If you have received notice about a scheduled court hearing showing up is an important first step. You can postpone your hearing while waiting for assistance from Maryland Legal Aid.
PROGRAMA DE ACCESO A ASESORAMIENTO EN CASOS DE DESALOJO EN MARYLAND!
Focus Group Participants Needed!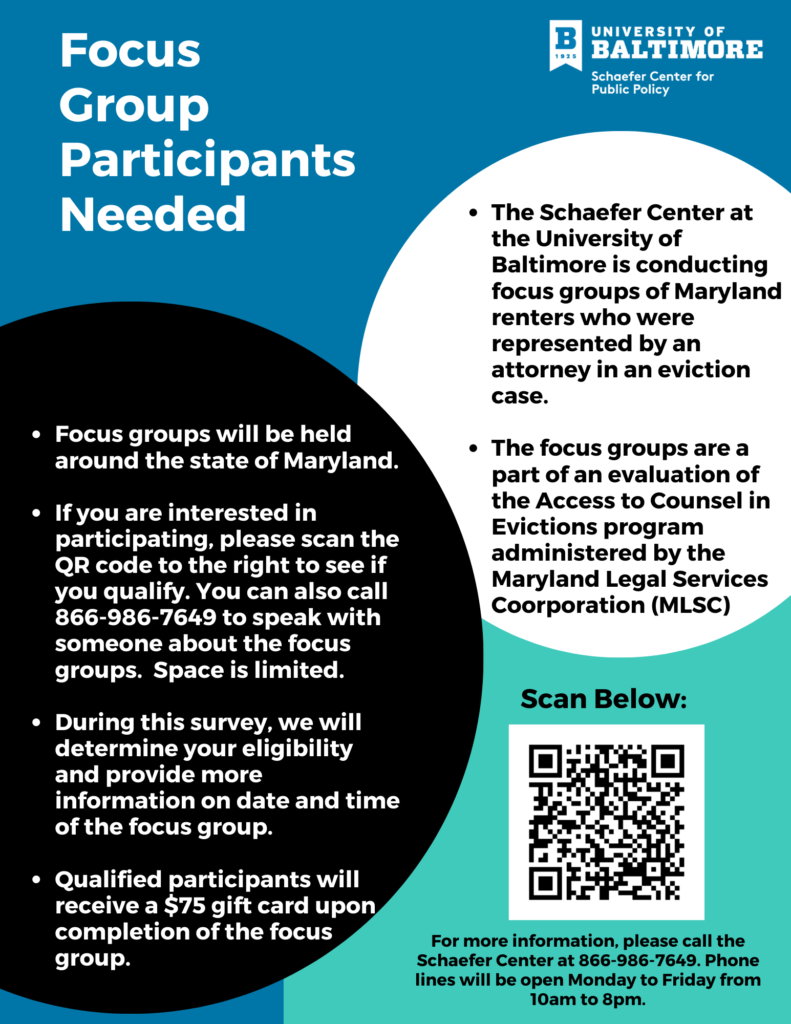 In need of help or looking for more information? Call today to work with a representative and see if you qualify.
For more information, call Maryland Legal Aid's Centralized Intake at 1-888-465-2468.
The Access to Counsel in Eviction Program is administered by Maryland Legal Services Corporation.