Community Partners Reception
On December 12, Maryland Legal Aid hosted a Community Partners Reception. Guests included representatives from organizations who partner with MLA for legal clinics, outreach, and grant-funded programs, as well as pro bono attorneys and donors.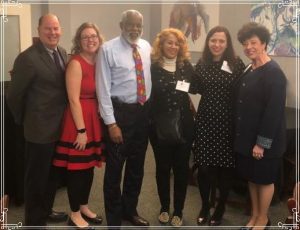 Anne Arundal County Expungement Clinic
Supervising Attorney Lisa Sarro, Staff Attorney Kathleen Hughes, and Administrative Assistant Kim Lusby from MLA's Anne Arundel County office participated in an expungement clinic for the Newtowne 20 and Woodside public housing communities on January 14 as part of a collaboration with the Annapolis Mayor's Office and local community groups.
MLA's Anne Arundel County office is working closely with local advocates and constituent services staff in the new Mayor's office to expand services to communities that have been traditionally difficult to reach.
Several events, similar to the expungement clinic, are planned for 2019.
Oxon Hill Lawyer in the Library
On January 16, Staff Attorney Patricia Greenwell, Paralegal Elsie Sanchez, and Supervising Attorney Terri Cooke from MLA's Metropolitan Maryland office attended the Oxon Hill Lawyer in the Library clinic. MLA's Lawyer in the Library program expanded to the Oxon Hill Branch in Prince George's County in February 2018.