Community Reentry & Employment Discussion
The Prince George's County Workforce Development Board sponsored a panel discussion on Community Reentry and Employment on March 6. The event was held at Prince George's Community College and the subject was about improving the ability of ex-offenders and persons with criminal charges to reintegrate into the community and obtain employment. Staff Attorney Zenia Wilson from Maryland Legal Aid's Metropolitan Maryland office was a panelist along with former Maryland Legal Aid Board member and current Maryland State Delegate, Erek Barron. Zenia rotates between the Metropolitan Maryland office and the Prince George's County One-Stop Workforce Development Center in Largo, MD. Zenia recently also participated in a Council of State Governments webinar on April 11 where she shared information about MLA's Community Lawyering Initiative and Workforce Development partnerships. 
Family Fun & Fitness Fair
On March 24, Chief Attorney Janine Scott and Law Student, Renee Brown from Maryland Legal Aid's Baltimore County office, participated in an outreach at the Sussex Elementary School Spring Family Fun and Fitness Fair and showcased the services provided by Maryland Legal Aid. Sussex Elementary School is a public school located in Essex. More than 80% of the school's students receive free and reduced price lunches. Many of the students experience homelessness, poverty, and family trauma. In order to meet the needs of the students and their families, annual events like the Spring Family Fun and Fitness Fair are held to provide information, resources, and activities centered on health and wellness, and other essential services. Approximately 35 individuals visited the Maryland Legal Aid table and spoke to Janine and Renee.
Empowerment Summit
 On March 31, Director of Advocacy for Children and Families Erica LeMon and Staff Attorney Cheryl Chado and Supervising Attorney Terri Cooke from Maryland Legal Aid's Metropolitan Maryland office attended the My Sister's Keeper Empowerment Summit at Bowie State University.
Recent Delegation Visits
On April 13, Maryland Legal Aid welcomed delegates from France and on May 3 delegates from Kyrgyzstan whose visits were arranged by the U.S. Department of State's International Visitor Leadership Program.The delegates heard from Maryland Legal Aid staff about various topics related to human rights and the civil justice system in the United States.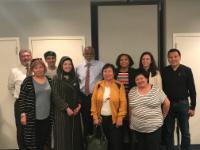 Management Training
 Maryland Legal Aid managers participated in a training on April 16 at the Charles Ecker Business Center in Columbia. The training included topics such as having tough conversations, the hiring and evaluation process, and included a number of team building activities.

The Daily Record Top 100 Women Event 
 Maryland Legal Aid staff celebrated Chief Operating Officer Gusty Taler's recognition at The Daily Record's Top 100 Women honoree event and reception on April 23 at the Joseph Meyerhoff Symphony Hall in Baltimore. Gusty was chosen among 400 nominees as a 2018 Top 100 Woman.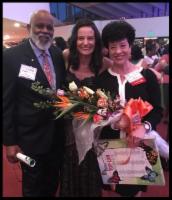 2018 Baltimore City Administrative Professionals Luncheon 
Maryland Legal Aid's Annual Baltimore City Office Administrative Professionals Luncheon was held on May 1 at the Cheesecake Factory restaurant at the Inner Harbor. Staff enjoyed lunch, desert, games and prizes, which included a variety of gift cards and a day off with pay.