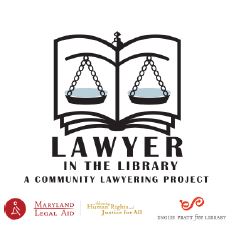 Maryland Legal Aid and the Pennsylvania Branch of the Enoch Pratt Free Library welcomed representatives from the U.S. Department of Justice (DOJ) Office for Access to Justice
and the White House Legal Aid Interagency Roundtable to the weekly Lawyer in the Library free legal clinic on Tuesday, April 26. The DOJ declared April 2430 "National Reentry Week" to focus on achievements of those returning to their communities after incarceration and the challenges they face in adjusting to life outside of prison. The federal representatives observed how the legal clinic removes barriers for people to obtain employment, housing, and child custody by resolving their civil legal issues and performing criminal record expungements. There were more than 500 programs and
events held around the country in recognition of National Reentry Week.
Wilhelm H. Joseph, Jr., Executive Director of Maryland Legal Aid, said "Civil legal services are part of reentry services. Maryland Legal Aid is proud of its partnership
with the Enoch Pratt Free Library to deliver legal services directly to people in their
neighborhoods, and to have shared this community lawyering initiative with our colleagues at the DOJ in hopes of inspiring other service providers across the country."
Read the DOJ's blog about their visit to the library during National Reentry Week
(Lawyers & Libraries: A Natural Fit, U.S. Department of Justice Office of Access to Justice Blog, April 29, 2016).