LSC's Innovations in Technology Conference
The Legal Service's Corporation (LSC) held its 2019 annual Innovations in Technology Conference in New Orleans on January 8.
Congratulations to Program Manager & Senior Full Stack Developer Russ Bloomquist and Director of IT John Jeffcott and their team for winning the Hack-a-thon! As a prize, team members were awarded free online training.
The Hack-a-thon is an opportunity to develop open source tools and solutions to improve access to justice.
Communications Specialist Charlotte Waters from Legal Services of North Florida and Director of Grants Management and Special Projects Raquel Bonilla from Legal Services of Northern Virginia collaborated with Russ and John for one day of programming and developing to create a survey text message system that collects client outcomes after clinics. There were a total of five teams that competed in the Hack-a-thon.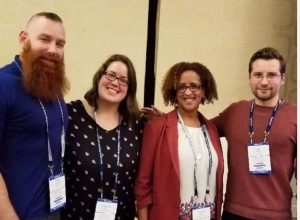 New Director of Information Technology
Congratulations to John Jeffcott MLA's new Director of Information Technology. John served as the Interim IT Director since September 2018.
Prior to his appointment as Interim Director, John was MLA's Law & Technology Specialist, a position he held since October 2016. Before joining MLA, John served as Project Administrator with Avening Management and Technical Services, where he managed on-boarding of IT professionals on contracts with the Federal government. John received his JD from Columbia University of School of Law and his Bachelor's degree from the University of Maryland.